A unique, hand made present is the perfect way to celebrate the birth of a new baby. Mass produced clothes are available everywhere, which is why a beautifully hand knitted outfit is the perfect new baby gift.
BABY SET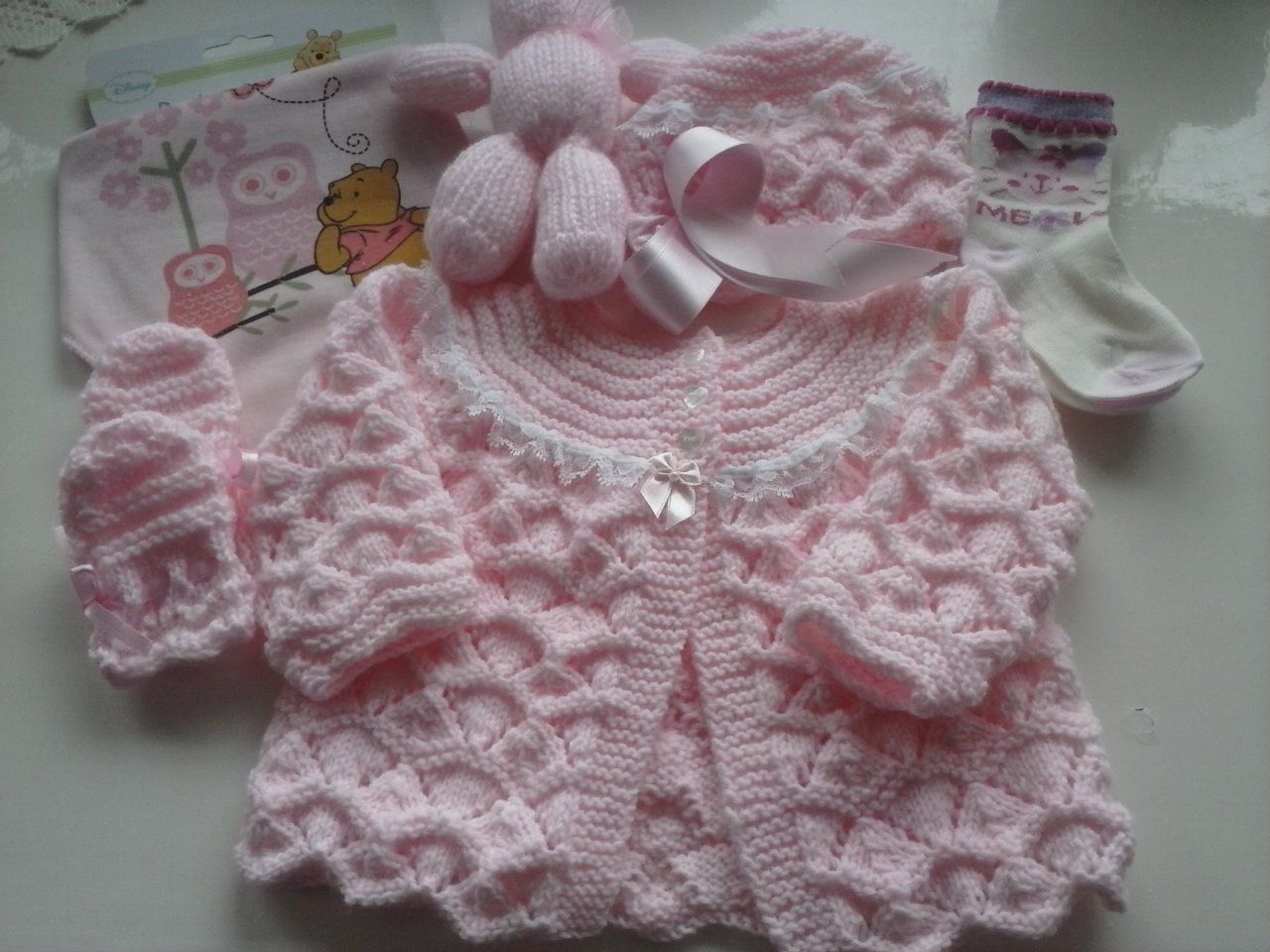 £ 20.00
This beautiful lacy baby set consists of:
Matinee coat, lace trimmed
matching bonnet with satin ribbon ties,
matching mittens
and a knitted minature teddy
To complete the pack, there is a pair of socks and a bandana bib.
Comes gift wrapped with bow & curls.
To fit premature, new born and 3-6 months.
Colours available:
Pink, lemon, p.green & white.
CABLE CARDIGAN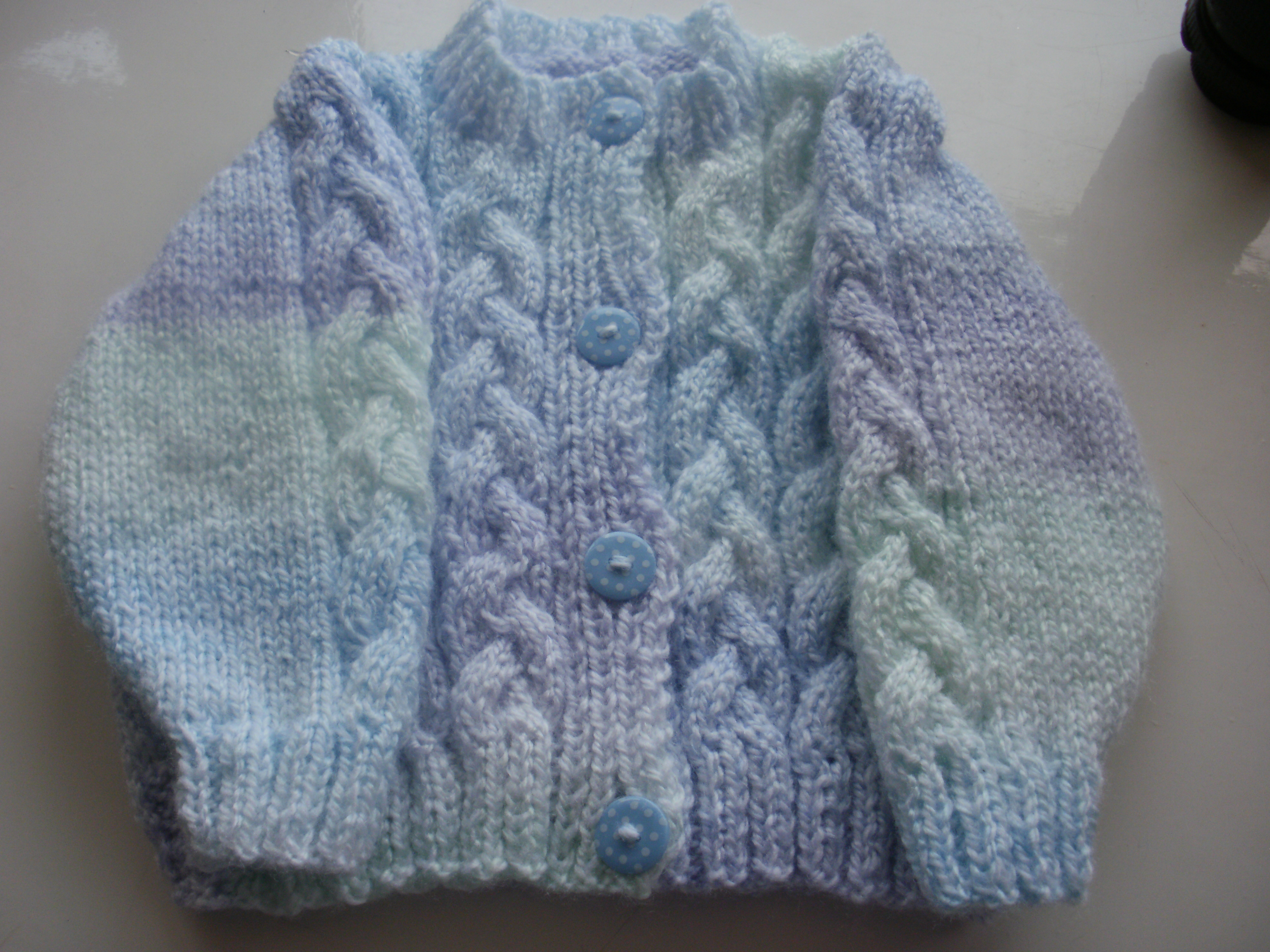 £ 6.00
This beautiful cardigan has cable down the front and along the sleeve.
To fit approx. 0-6 months.
Knitted in Brett Marble DK this is machine washable at 40c. No tumble dry.
Comes in a variety of colours the one shown is a marble from lilac through to white.
Email me if you require a specific colour.
Beautiful Lacy Matinee Coats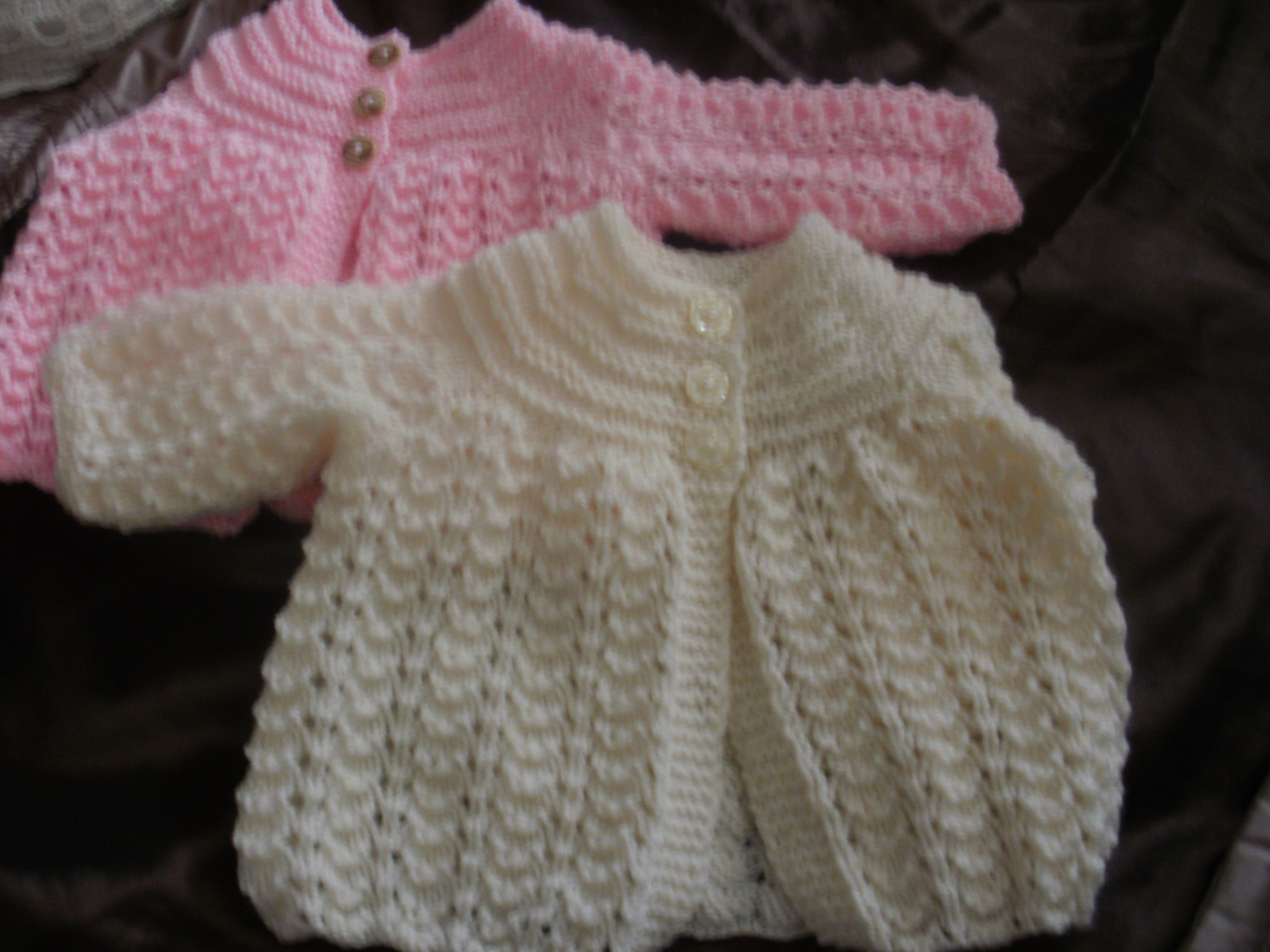 £ 6.99
These beautiful matinee coats are knit in a baby soft yarn in a lovely lacy pattern.
Comes in 2 sizes:
0-3 mths; 3-9 mths.
Choice of colours:
Yarn is machine washable ideal for baby clothes.
Baby Bonnets & Helmets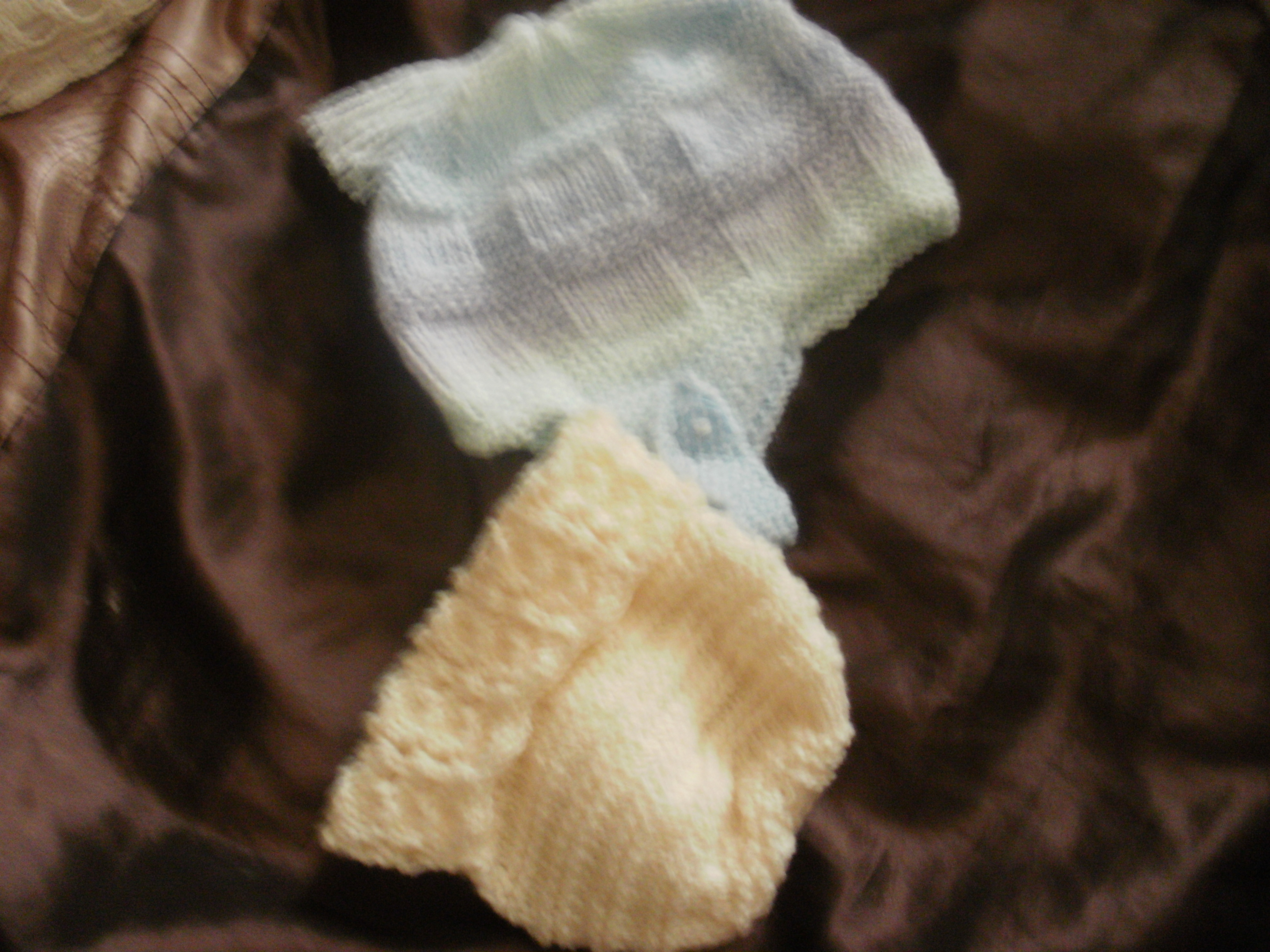 £ 2.99
Selection of Baby bonnets, hats and helmets for your little one.
Various colours available and some will match up with other items available.
Shown here is a garter square helmet with tassle in blue marble.
Lacy turn back brim bonnet with ribbon ties in cream which will match the lacy matinee jacket.
Girls Lacy Cardigan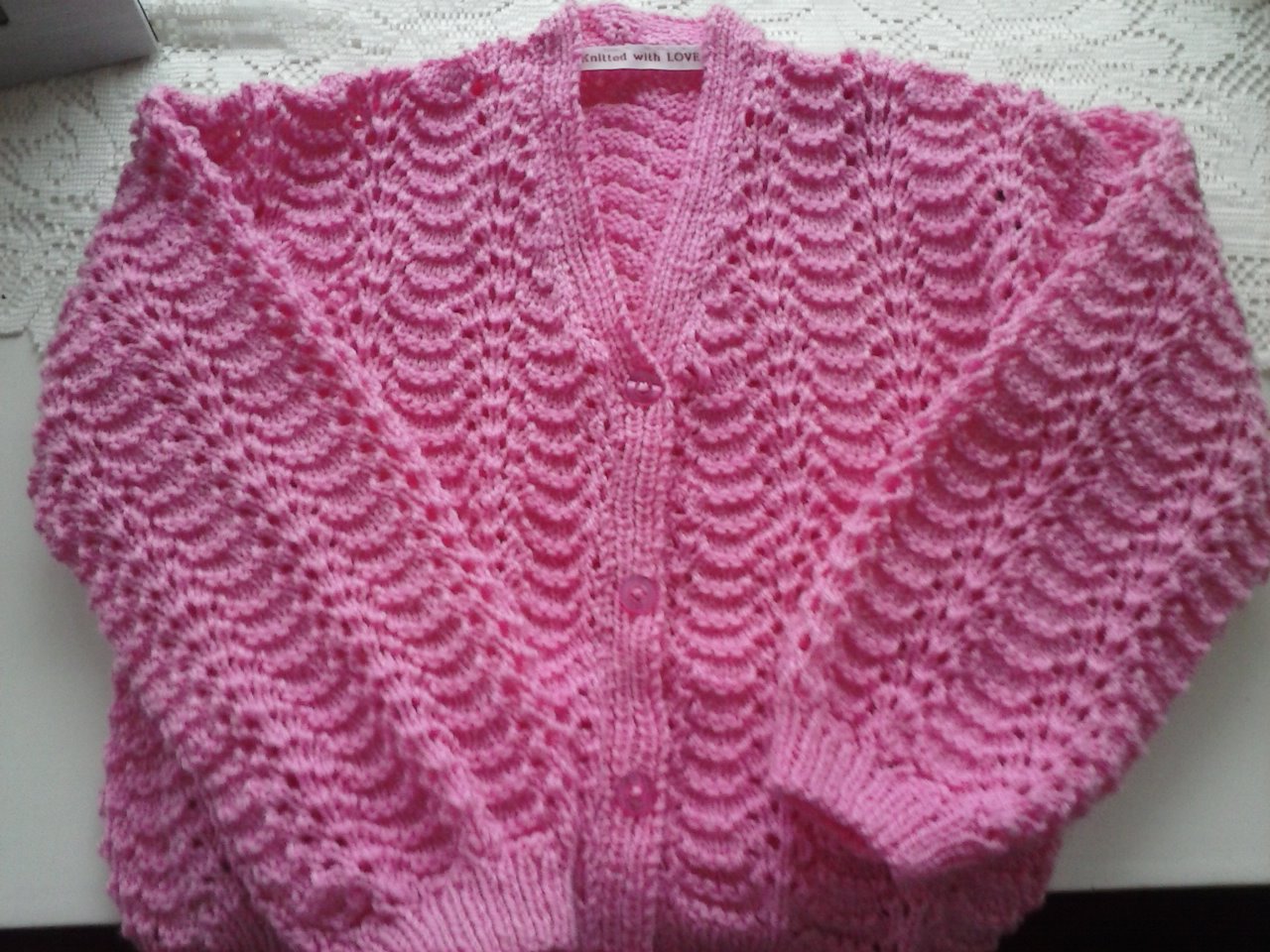 £ 10.99
This beautiful lacy pattern cardigan is ideal for the young lady.
It is knit in a soft DK yarn which is washable.
The pattern is feather & wave and gives a lovely texture.
Comes in sizes 24 - 28in chest and a variety of colours.
Choose from Deep Pink (shown)
White,
Cream
Blue
Pale Green or Lilac.
Cardigan for premature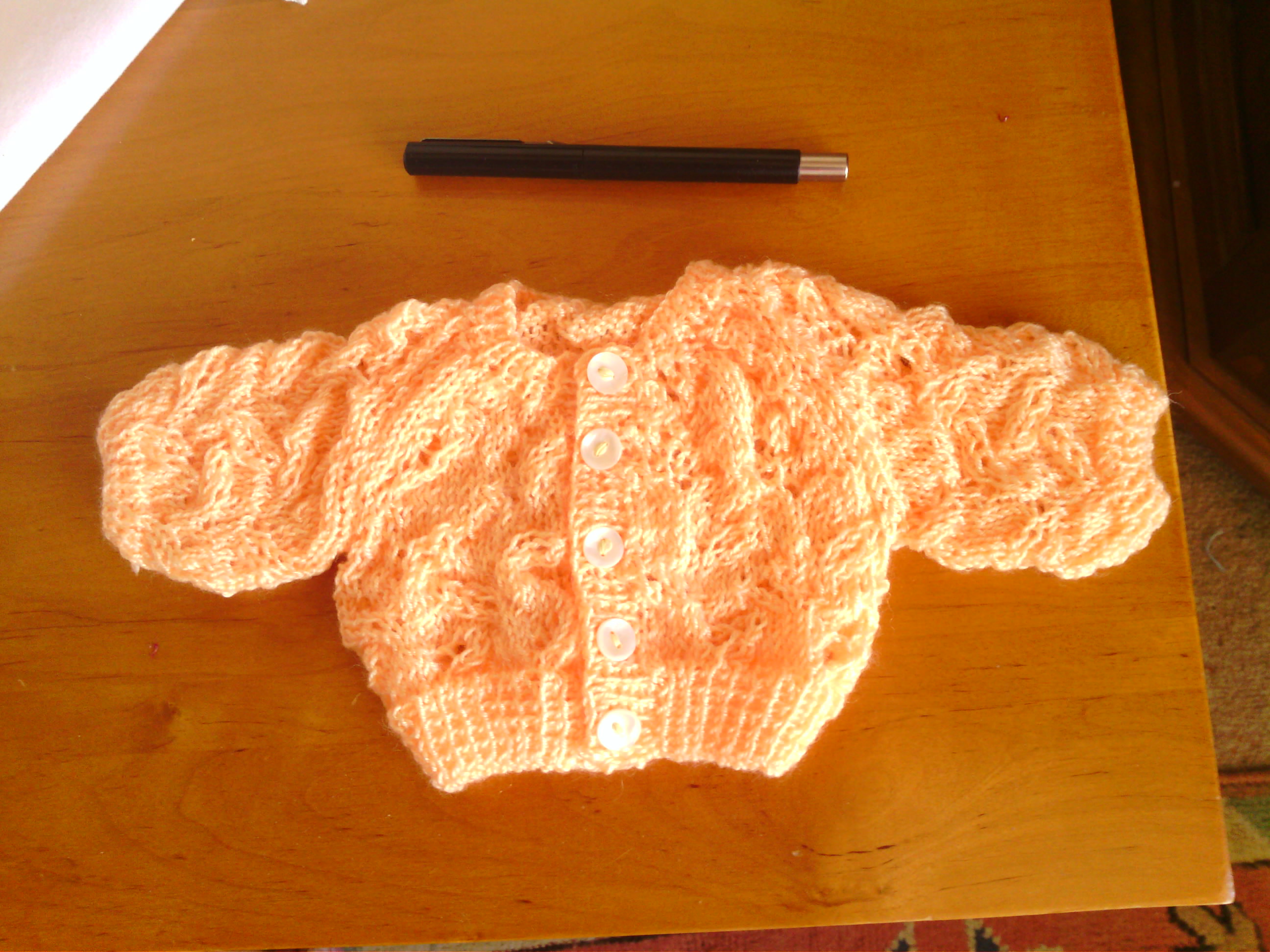 £ 6.99
This little cardigan is so tiny, it is unbelievable! Only 10 in chest, this would fit a prem baby.
All colours available.
Knit in a very soft silk/cashmere yarn makes it gentle against baby's delicate skin.
BUNNY HUGGY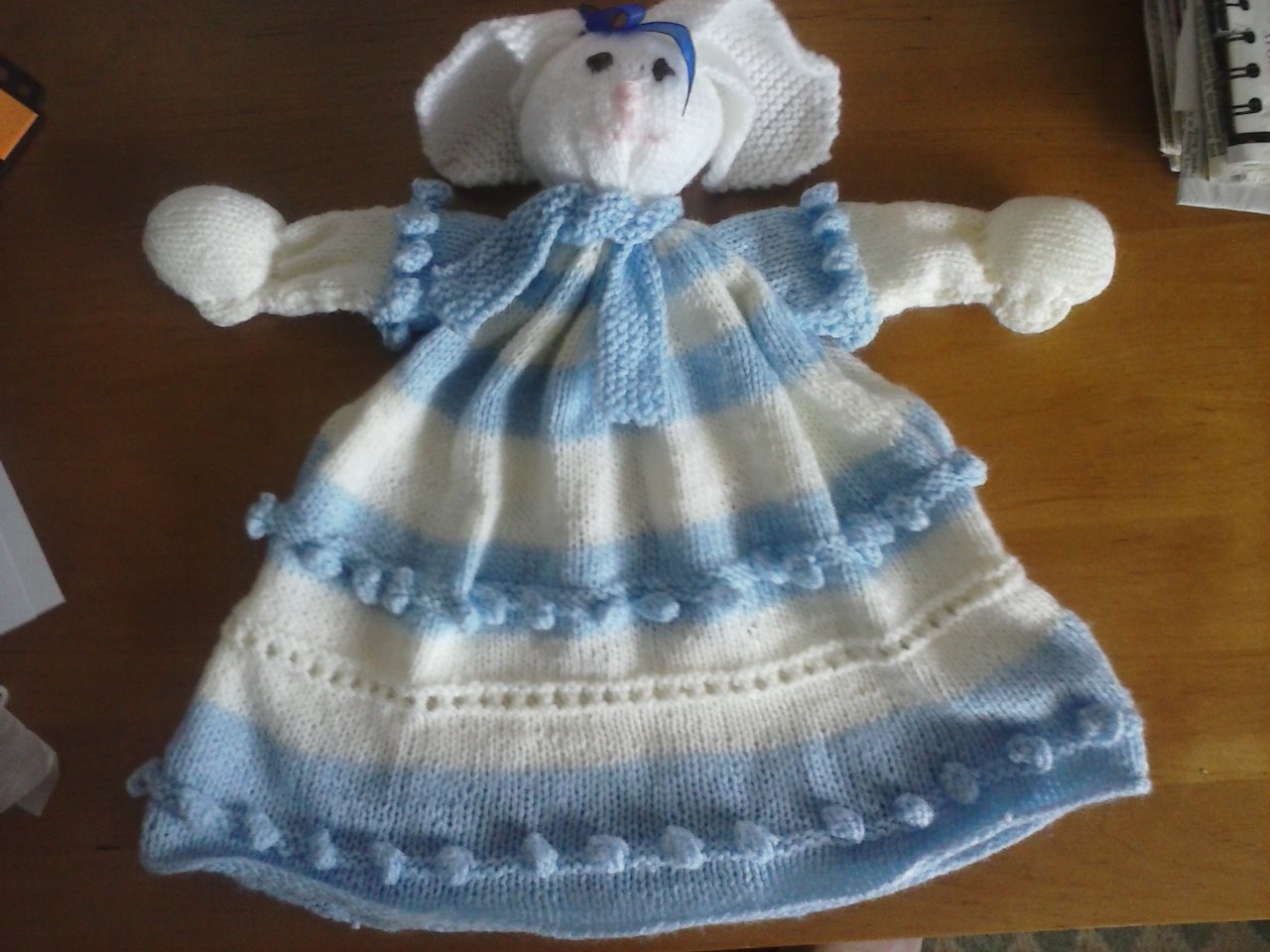 £ 8.00
This adorable hand knit baby huggy will be the hit of the baby shower.
The bunny's head is filled with non allergenic, hygienic stuffing to BS standard. Its featured are embroidered so no small parts for baby to swallow.
It is hand knit in good quality sirdar double knit yarn which is machine washable, a must for babies and toddlers.
It measures 15 inches from top of the head to the hem and comes in a combination of colours.
Shown here in blue/cream it is also available in pink/white & brown/cream.
Aran Sweaters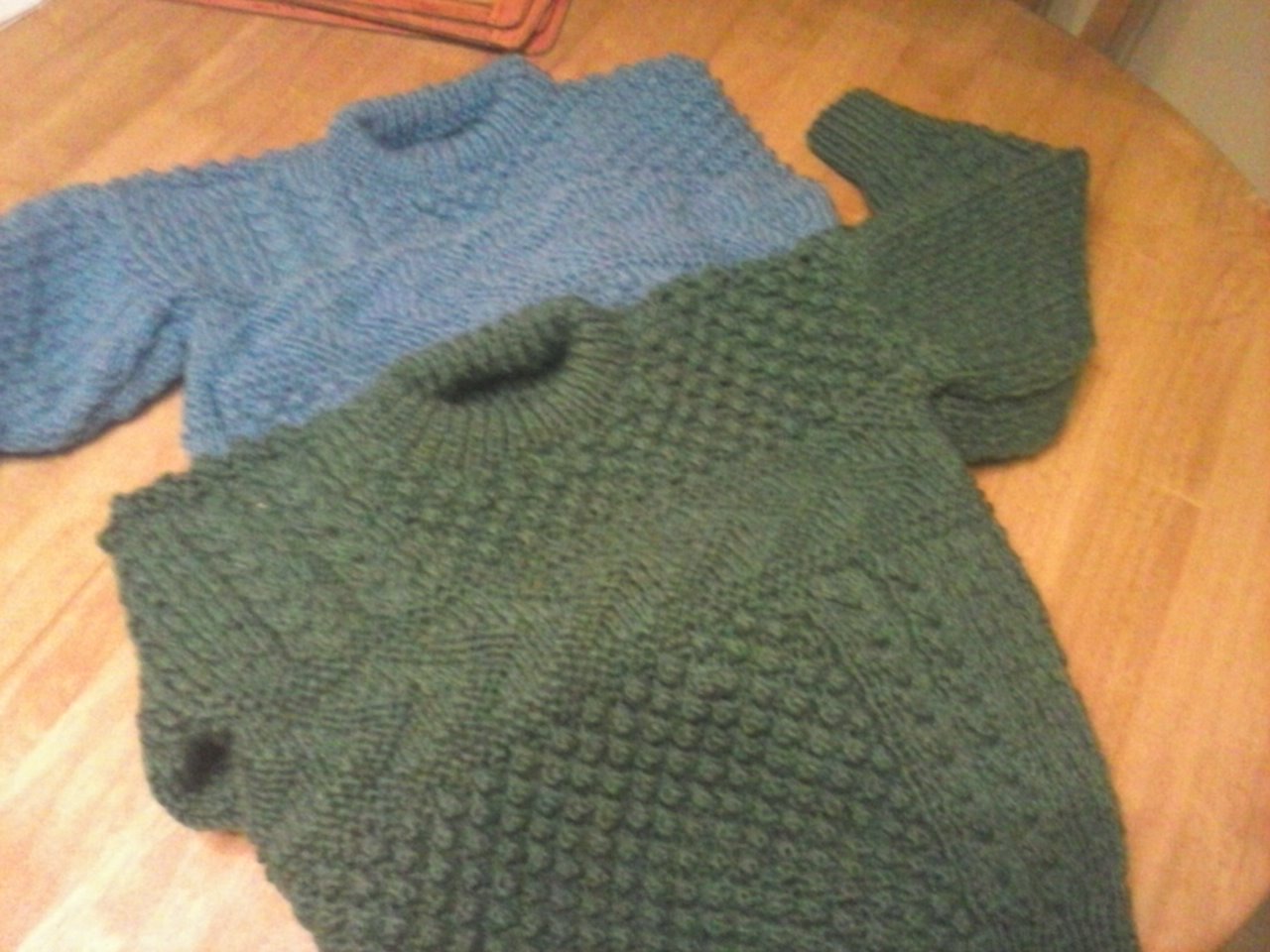 £ 15.99
Beautiful Aran sweaters.
Bobble pattern with cable and chevron give a warm feel and textured look.
This sweater is available in blue, green, natural, brown.
Sizes 24 - 32.
Baby Cross over Leaf edge cardigan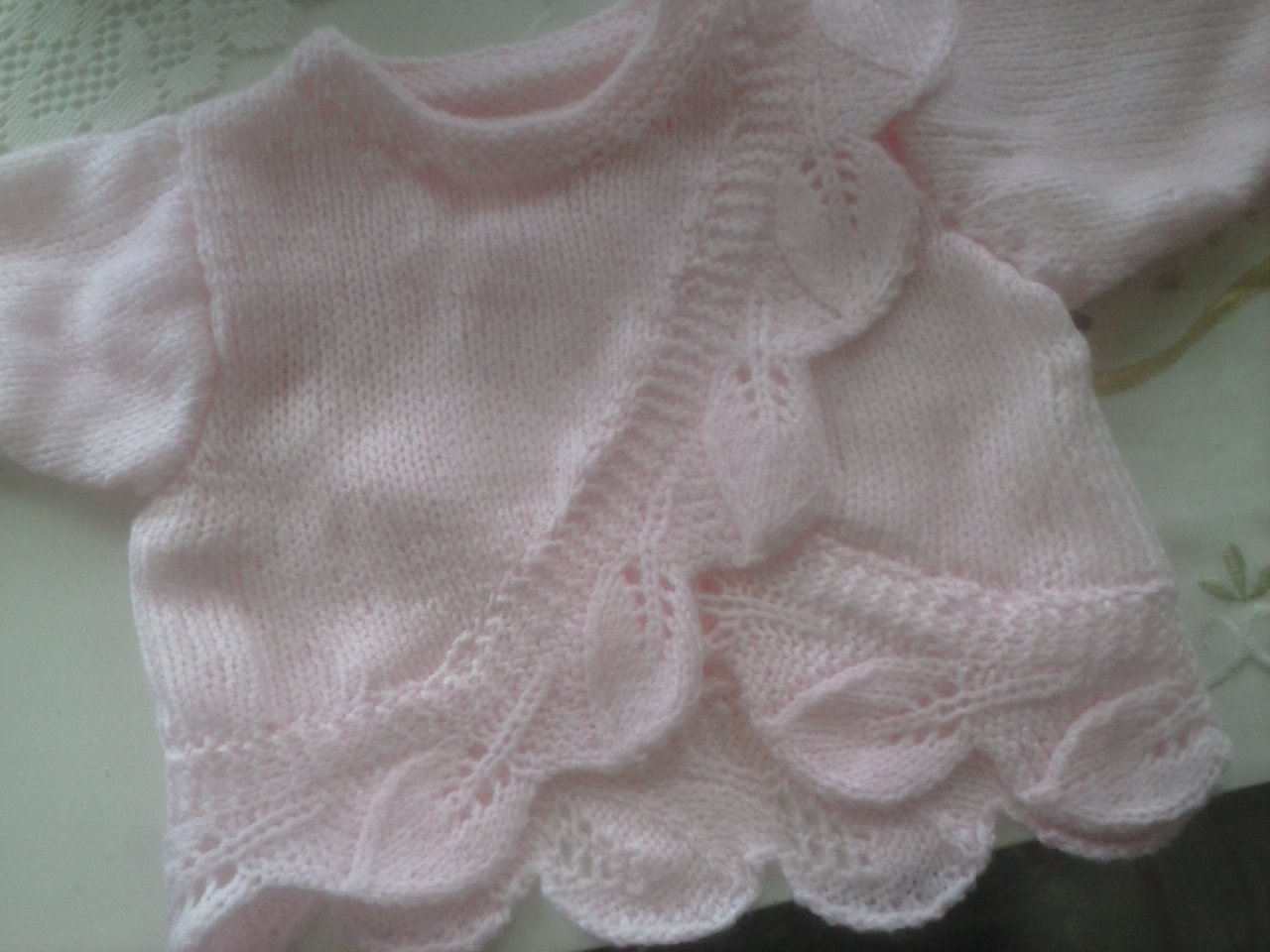 £ 8.99
This delightful cardigan is unusual in its design. It is a cross over with a leaf pattern forming a scallop edge.
Handknitted in good quality double knitting yarn, it is also washable.
Comes in a choice of colours,
Pink; cream; lemon; pale green and blue.
It also comes in sizes 16 - 20 in chest.
Crew Neck Matinee Coat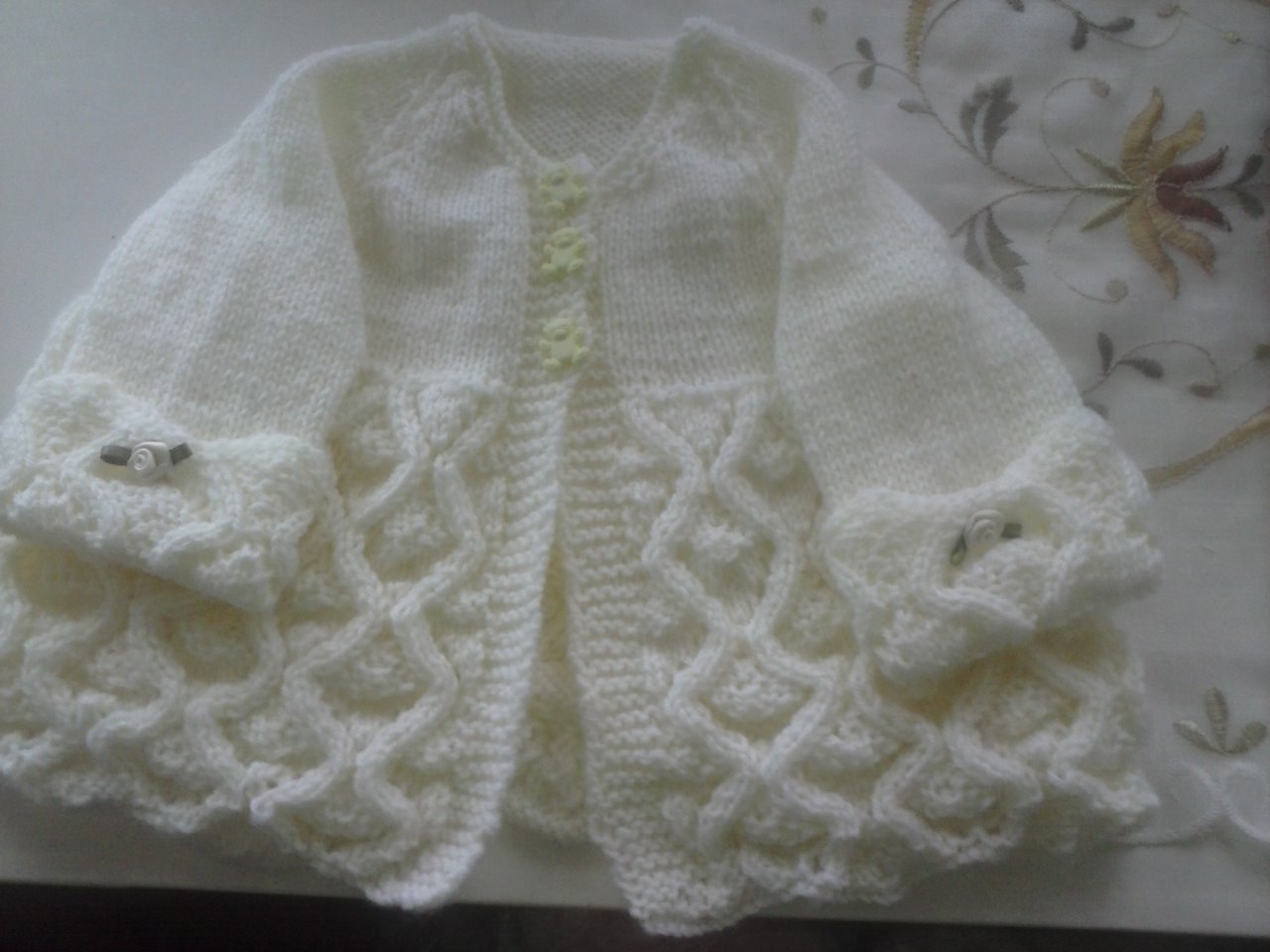 £ 8.99
This matinee coat is knitted in 4 ply yarn in either a crew neck style or with a collar. It has turn back cuffs and the girl's (shown here) has rosebuds on the cuff.
Will fit from premature (14 in) to 6 mths (18 in) and comes in a variety of colours:
Cream, lemon, blue, pink or white.
Outfits for Premature Babies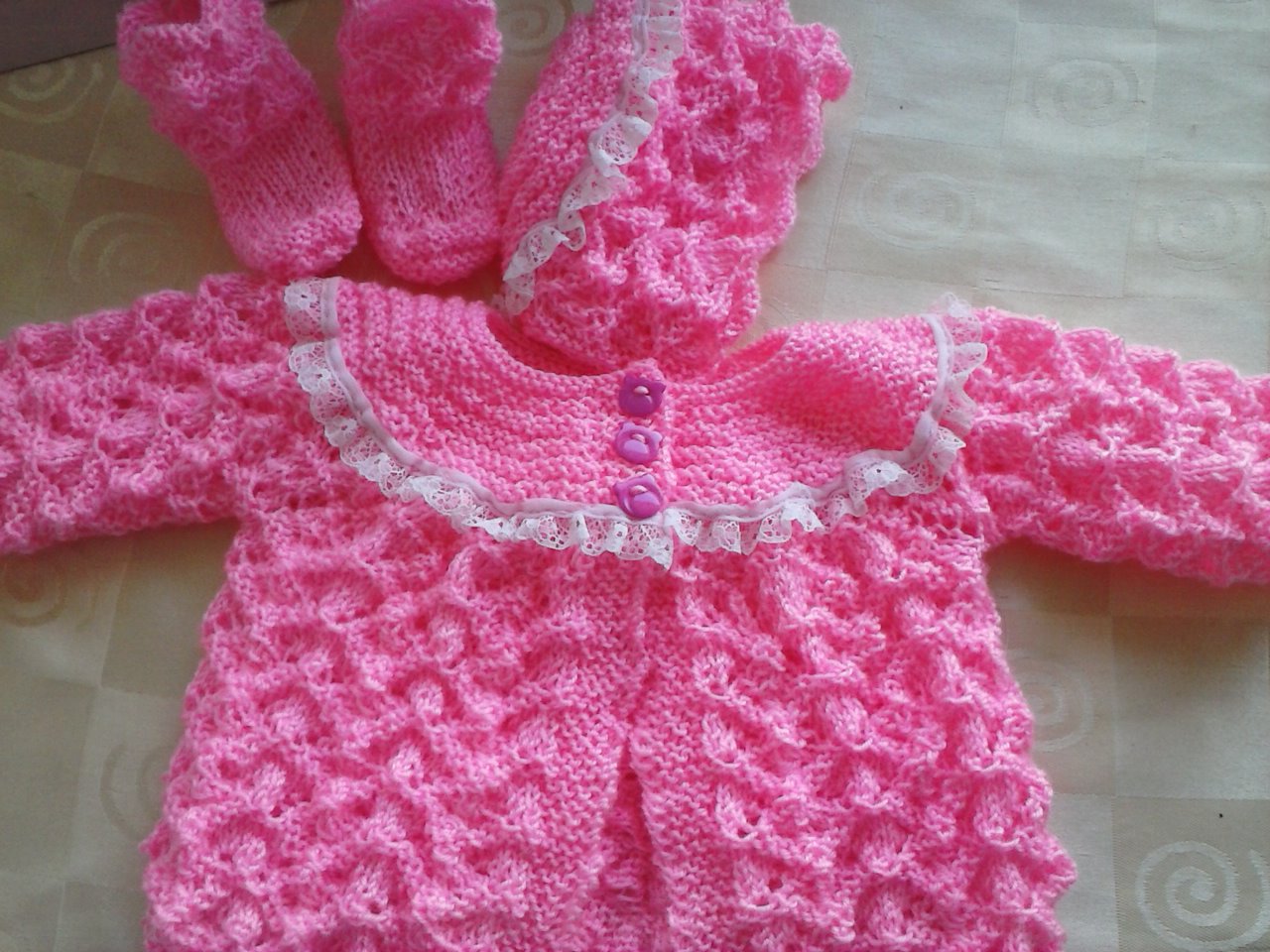 £ 15.00
This delightful outfit consisting of Matinee Coat, matching bonnet and bootees
is hand knit in a delicate baby soft yarn with cashmere & silk content.
The pattern is a feather & fan lace and the yoke is trimmed with lace as is the bonnet.
Sizes: 12 in chest for prem.
Colours: Pink; lime green; blue & white.
Outfit for Premature Baby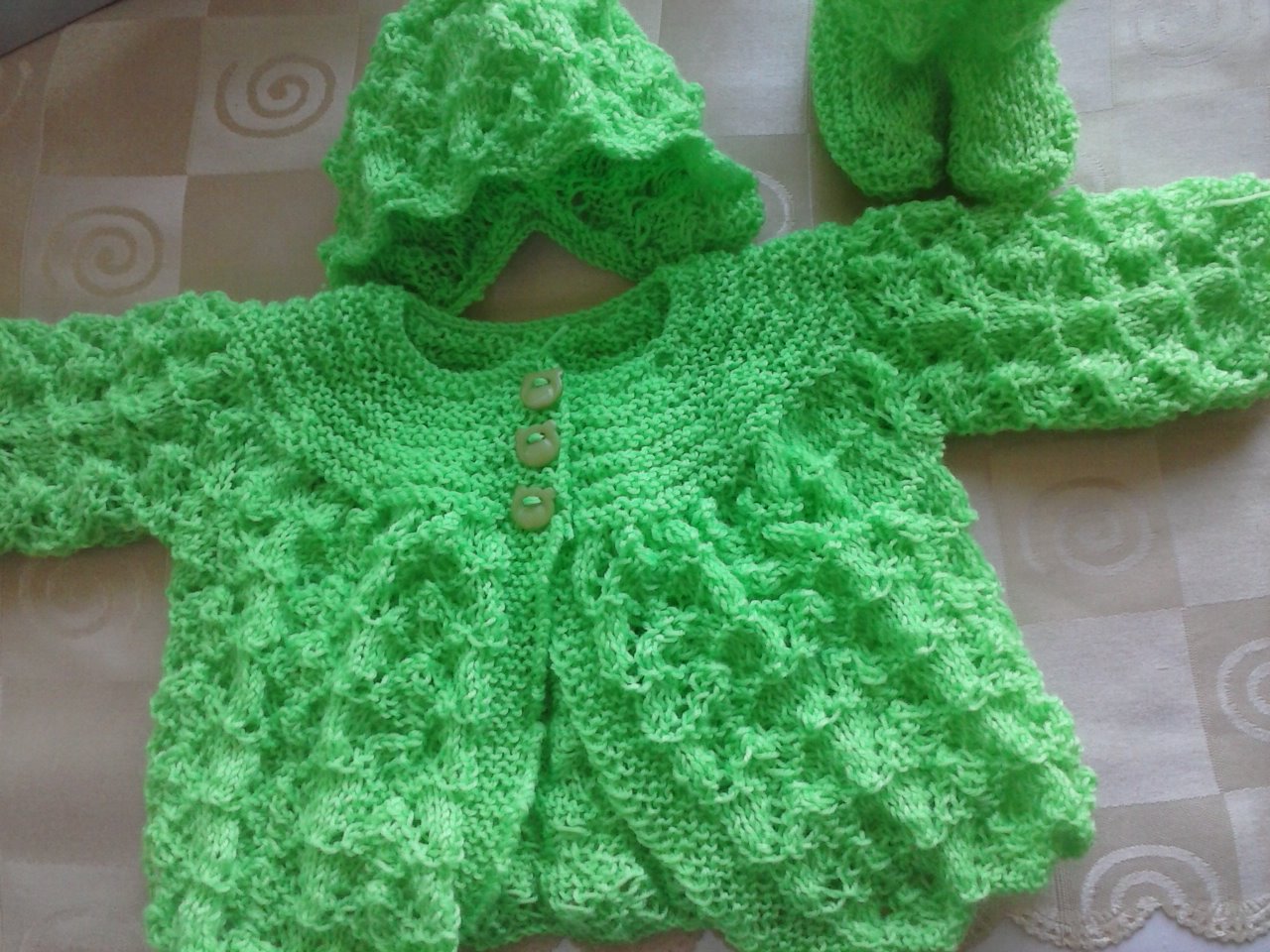 £ 15.00
The Green version of the Pink outfit
No lace trim on this one.