HANDKNITTED TOYS
Every child, what ever the age, loves a cuddly toy, and when it is hand knitted it has that extra special pzazz!!
These toys are hand knitted by me using quality yarns.
The filling is to BS standards and is safe for your little ones.
Most of the items can be washed in a gentle cycle but not tumble dried.
I have not used any small parts that can be detached by the little ones. All facial features etc have been knitted or embroidered thereby making them safe for even the youngest child.
Jess - Postman Pat's Black & White cat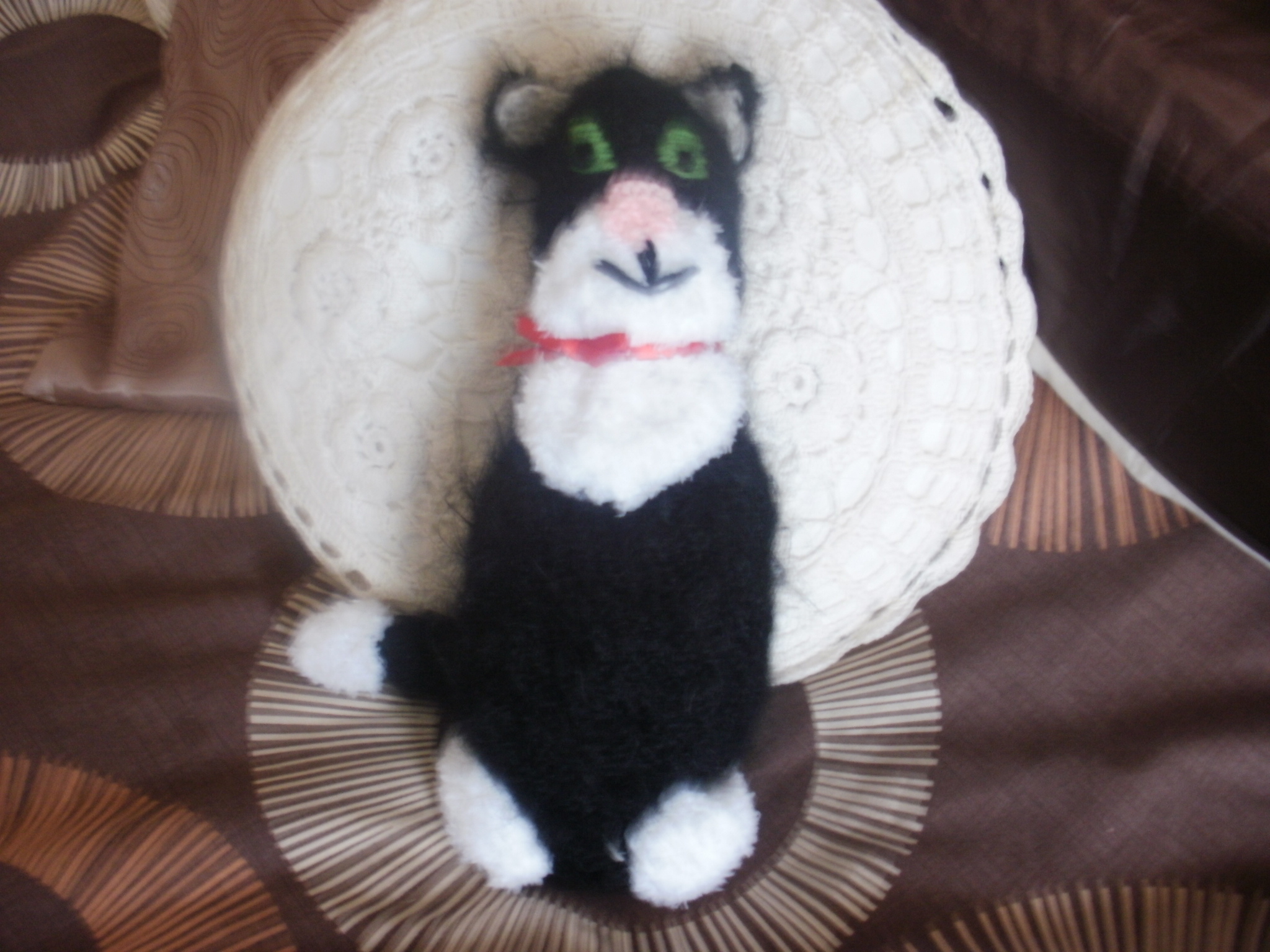 £ 6.00
This delightful cat is
Jess - Postman Pat's black & white cat.
Jess is from the very popular BBC childrens tv series CBBCs.
He is knitted with black mohair fur for his body and his white frill and face, paws and tail are sirdar snuggly snowflake yarn which is soft and cuddly.
Just the thing for your child to cuddle.
NO LONGER AVAILABLE
Cuddly Bunny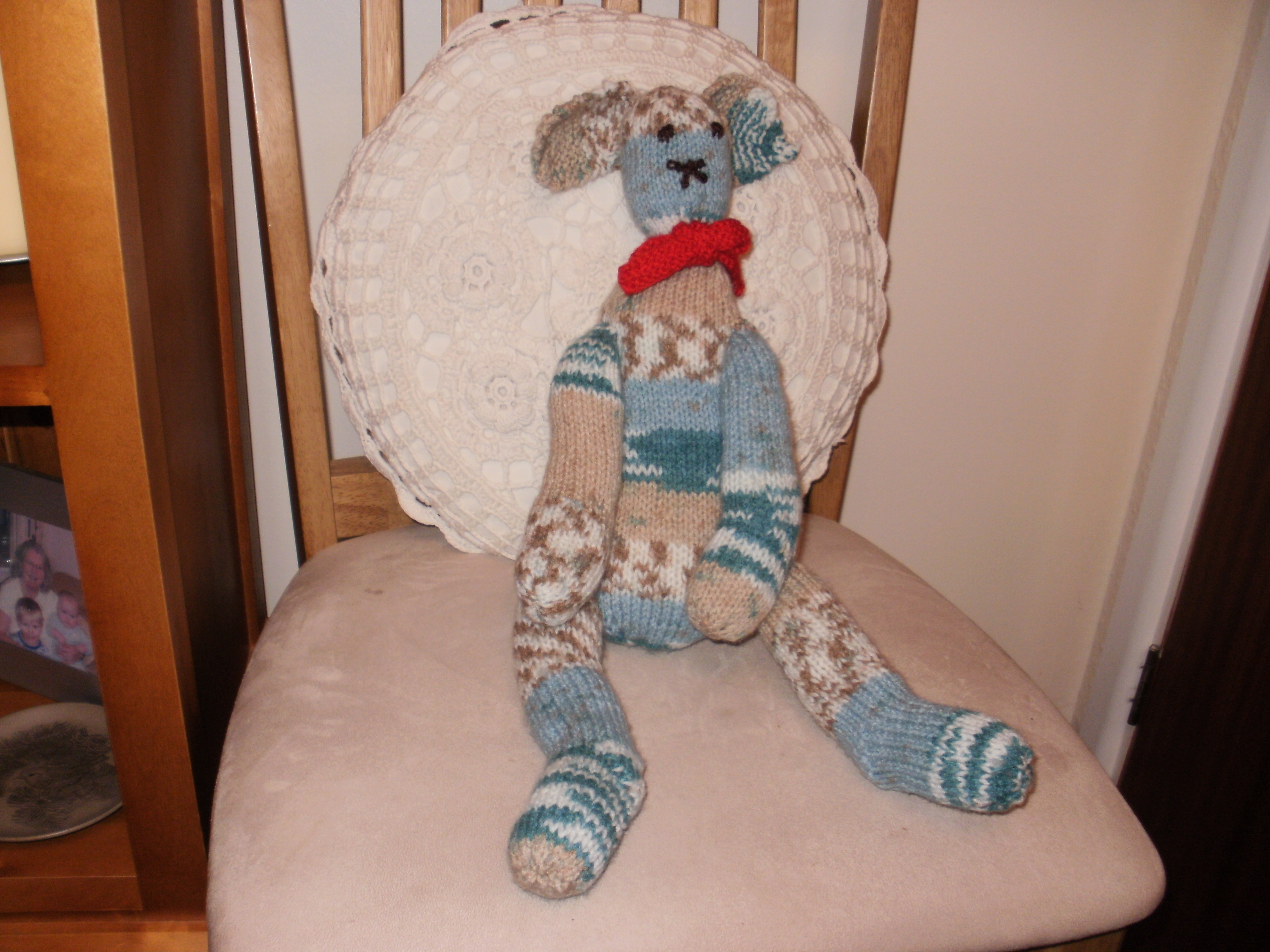 £ 6.00
This adorable bunny is just waiting to be cuddled.
He is made from a soft multi striped stock yarn and has a contrasting bow.
He is about 36 cm tall with floppy ears.
His jolly stripes and contrasting bow are sure to make him a favourite with your little one.
SORRY NO LONGER AVAILABLE.

SAME SMILE PANDAS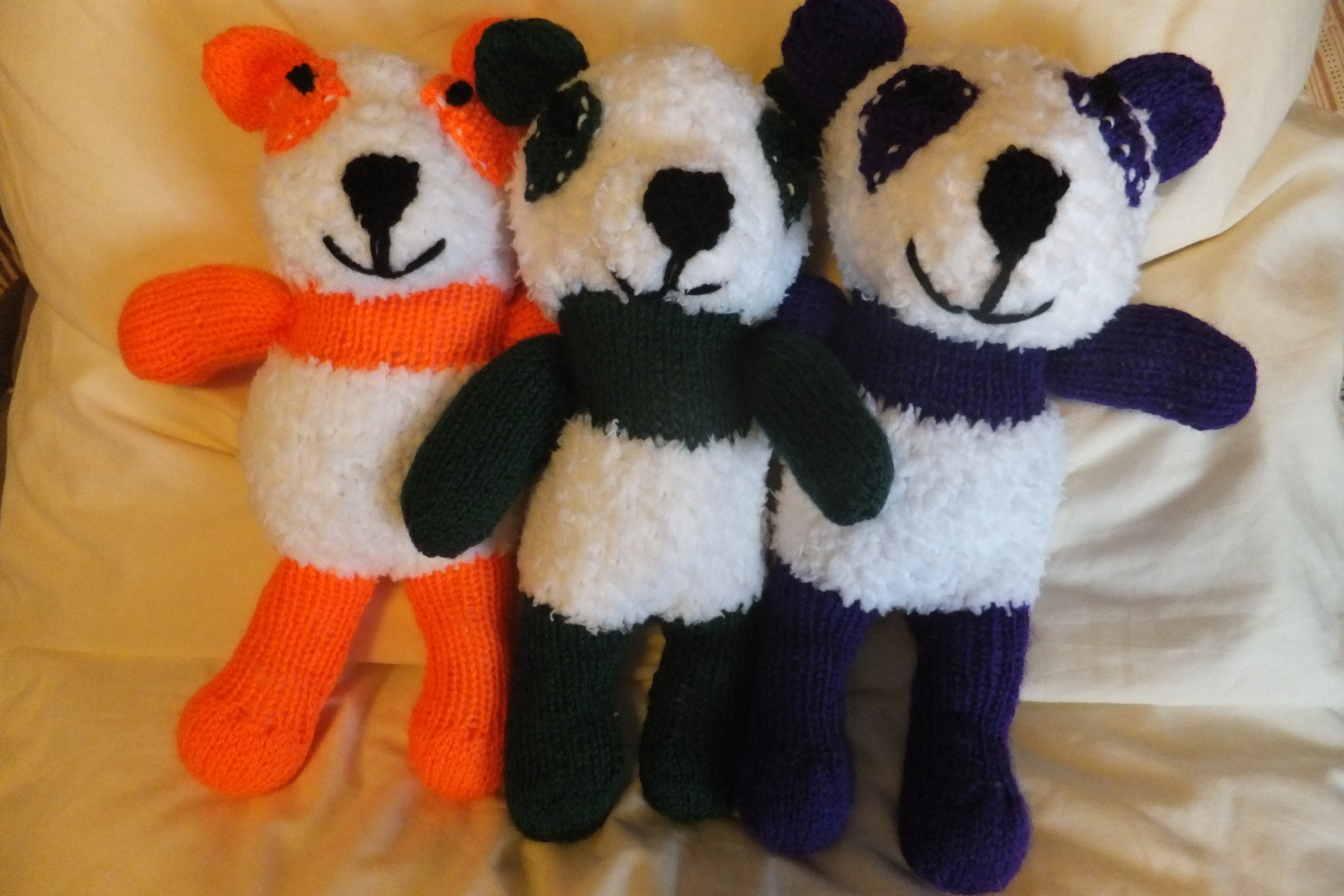 £ 30.00
Meet Mish, Moosh and Mogo.
The same smile pandas from the very popular CBBC's TV programme.
These lovely pandas are made in Robin DK yarn and the white is Sirdar snowflake.
The filling is to BS standards.
All facial features and knitted so no little parts for little fingers to prise off.
The Pandas are approximately 13 inches in height.
SOLD OUT
Raa Raa the Noisy Lion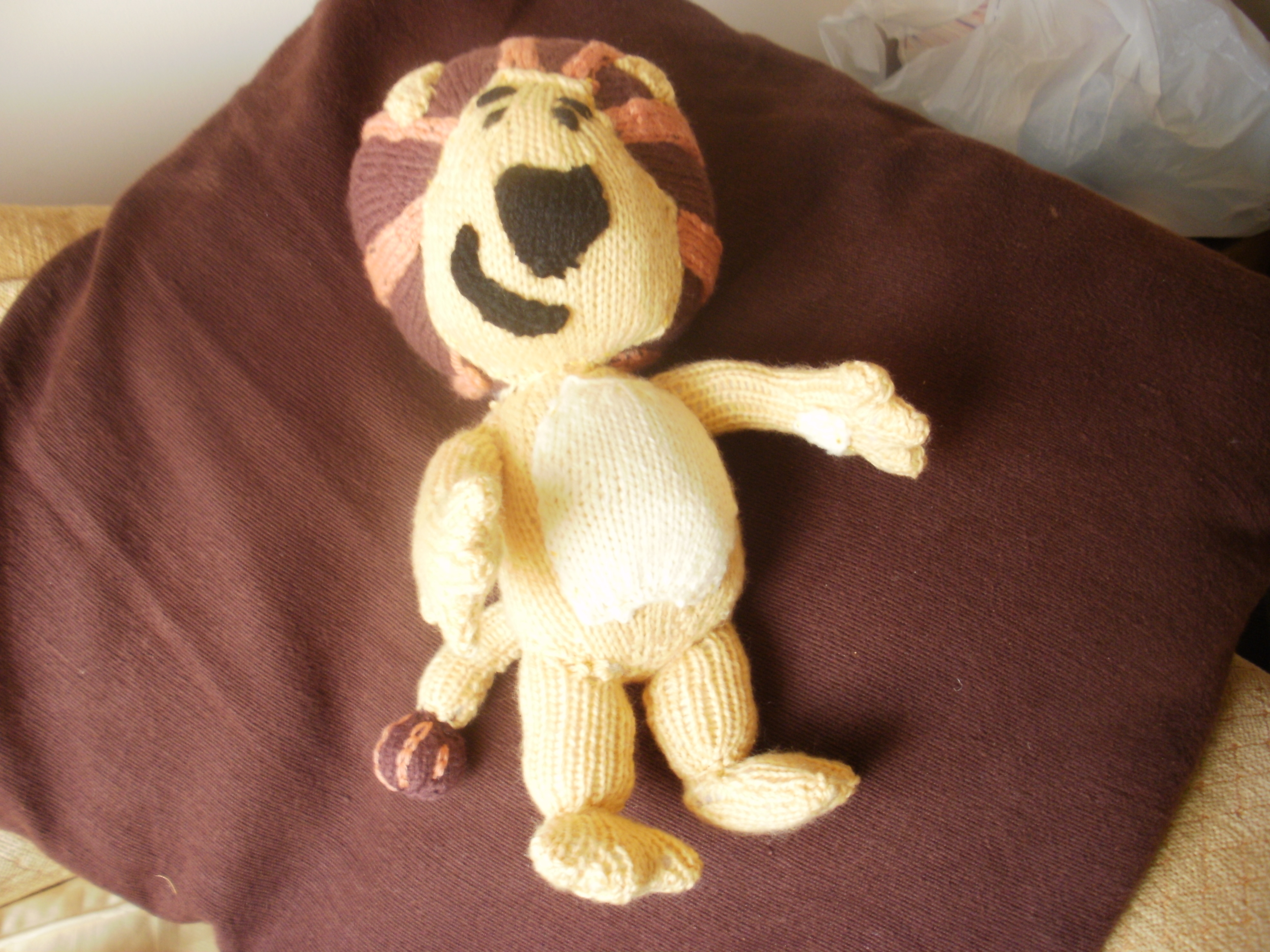 £ 10.00
RAA RAA THE NOISY LION
Based on the BBCs childrens series this cute little lion is sure to be a favourite with the little ones.
Handknitted in Sirdar Snuggly Snowflake DK, he is soft and cuddly to hold. And stands at approximately 12 inches.
There are no fiddley bits to be detached by little fingers.
NO LONGER AVAILABLE
TEDDY BALLERINA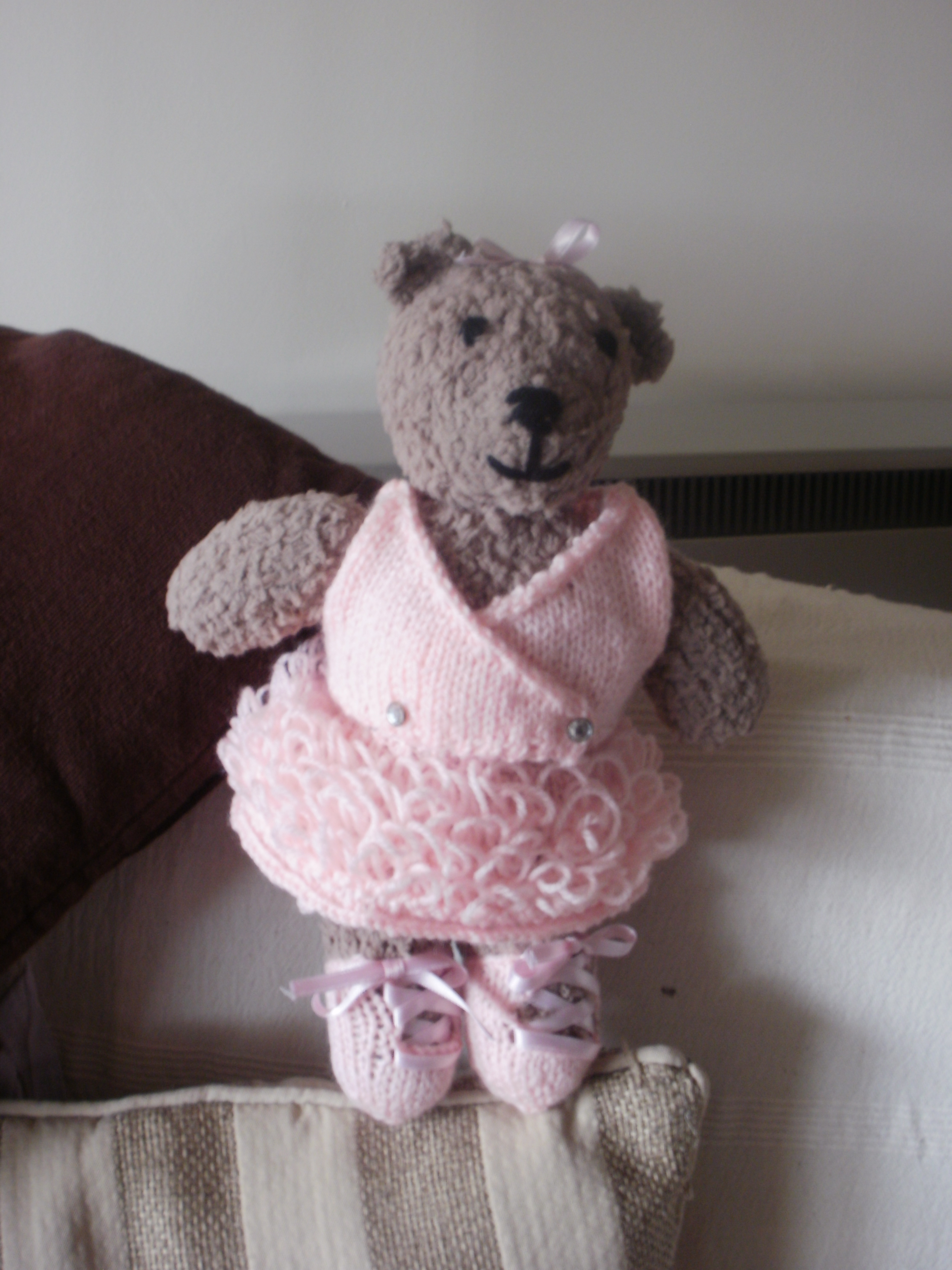 £ 5.99
This beautiful teddy Ballerina is a must for every little girl.
It is knitted in soft & cuddly Sirdar Snowflake yarn and dressed in pink skirt and top with her shoes laced with pink ribbon.
The dress can be done in other colours.
Stands approx. 10 in high and filling meets BS safety standards.
NO LONGER AVAILABLE
THE CLANGERS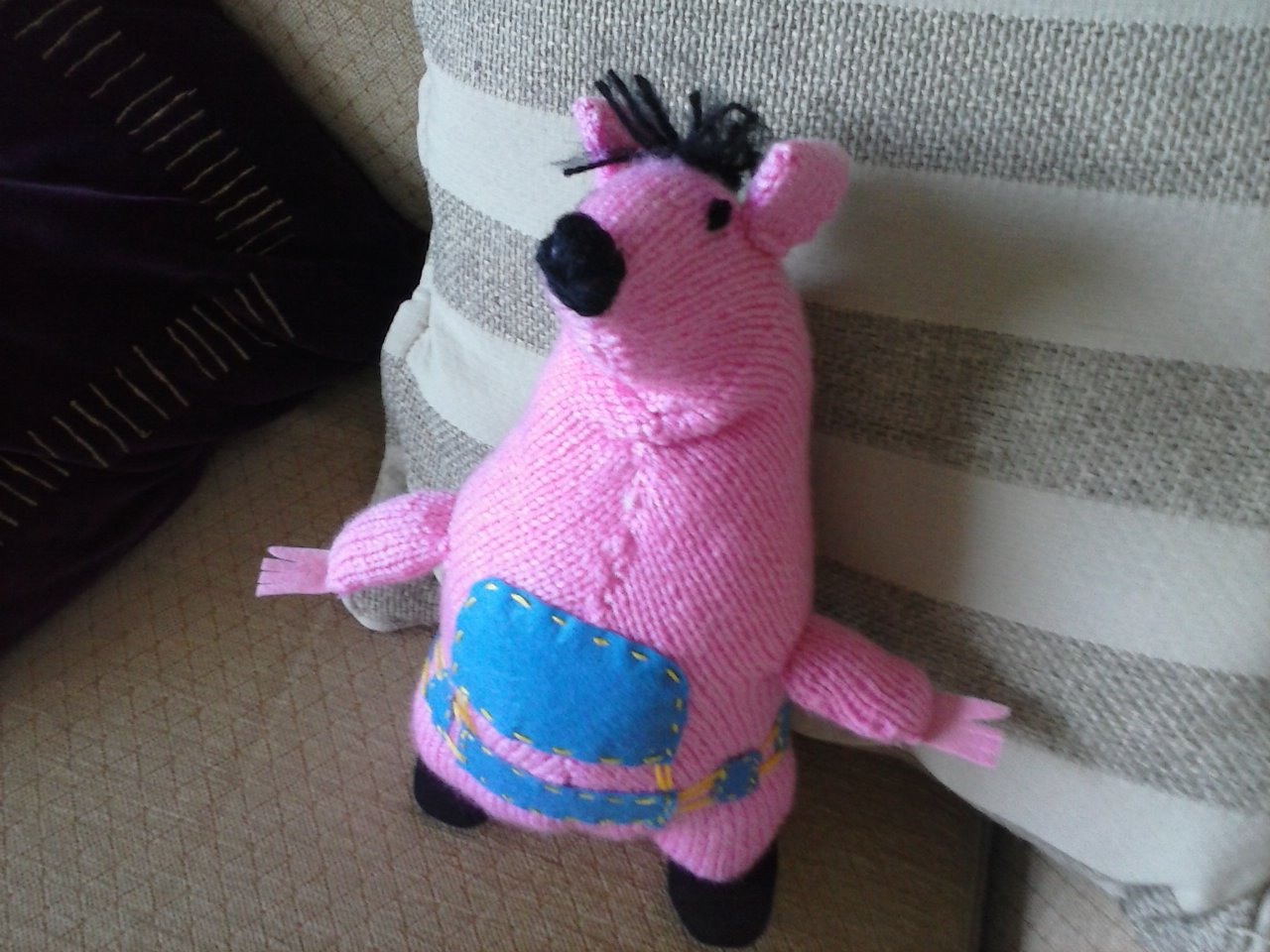 £ 10.00
Clangers is a British television series for children about a family of mouse-like creatures who live on, and in, a small blue planet (quite similar to, but not intended to be, the Moon). They speak in whistles, and eat green soup supplied by the Soup Dragon. The programmes were originally broadcast by the BBC in 1969–1972.
This is my version of a Clanger. Handknitted in Sirdar Double Knitting wool, and filled with Non Allergenic, washable polyester to
Fire safety standard BS5852
There are no small bits for young children as everything is knitted.